Softball is one of the most popular sports in the US, I loved it as a kid and still play it as an adult just for fun. Not to mention – I love watching a good game.
One of the many factors into making a softball game memorable is a good softball walk-up song. That short snippet of music gets me in the right headspace, amps up the crowd, and lets my opponents know I'm coming for them.
Softball walk-up songs can be any number of things – sassy, riotous, energising – depending on what works best and what suits the player. There's tons of good options out there, but to help you narrow it down, here are 21 of my absolute favourite softball walk-up songs.
Top 21 Softball Walk-Up Songs
"No Diggity" – Blackstreet ft Dr Dre and Queen Pen
This classic hip-hop track from Blackstreet, Dr Dre and Queen Pen will help you to exude confidence in your softball walk-up. It's hard not to put a little swagger in your step when you hear it, and it's sure to elicit a cheer from the crowd. "No Diggity" is considered one of the greatest songs of all time by publications such as Blender, NME and Rolling Stone, and in 1997 it won its collaborators a Grammy for Best Performance by a Duo or Group.
The song has a simple premise. It involves the three collaborators saying "no diggity" to a good time and preparing to have some fun. Interestingly, the track samples a very different song: "Grandma's Hands" by R&B singer Bill Withers.
---
"Seven Nation Army" – The White Stripes
If you're looking to get people's attention with your walk-up, you can't go wrong with this classic riff. "Seven Nation Army" by The White Stripes makes it one of the fantastic softball walk-up songs – "A seven nation army couldn't hold me back," is certainly an intimidating lyric. The track is actually about gossip, and the chatter that surrounds a famous person when they return to their hometown.
"Seven nation army" is a phrase inspired by Jack White's childhood, when he mistakenly believed it to be the name of the Salvation Army. In his adulthood he remembered this mix-up and thought that it made for an interesting song title.
---
"thank u, next" – Ariana Grande
This is a track for those in search of sassy softball walk-up songs. With the help of Ariana, tell the opposition "Thank you, next" as you strut up to the plate. This track from Grande is a confident self-love anthem about moving on from past experiences with a greater knowledge of yourself and what you want. Who doesn't want to head into a game with that mindset?
"thank u, next" references many of Grande's real-life relationships, revealing details about what she learnt from each one. The elaborate music video for the track sees her parody several beloved 00s films, including Mean Girls and Legally Blonde.
---
"Truth Hurts" – Lizzo
Another sassy track, blasting "Truth Hurts" is a great way to get yourself pumped up. This energetic track sees Lizzo take control of her own destiny and cut off those she feels aren't giving her what she needs. There's plenty of great snippets in this track to choose from, and you're bound to find one perfect for your walk-up.
---
"Salute" – Little Mix
This military-style track from girl group Little Mix will make your opponents stand to attention. One of the best softball walk-up songs for those who have their eye on the prize, "Salute" demands the focus of everyone around you and is sure to fill you with confidence.
Little Mix had wanted to write the perfect girl power song for a while before they penned "Salute", and they were thrilled with the results, telling media that they "absolutely love" the track.
---
"Gasolina" – Daddy Yankee
This supercharged song from Daddy Yankee will get you pumped up in any scenario. Although many people have tried to ascribe a deeper meaning for the lyrics, Daddy Yankee has insisted that the "innocent" track is just about a woman who likes to go out and have a good time. What could be better for a softball walk-up song?
"Gasolina" was the first worldwide reggaeton hit when it was released in 2005. Its lyrics are almost entirely in Spanish and use a popular Puerto Rican saying in its chorus which translates to: "I like gasoline, give me more gasoline."
---
"This Is How We Do It" – Montell Jordan
A classic sports track, "This Is How We Do It" by Montell Jordan is one of the fantastic softball walk-up songs. Jordan describes the excitement of getting ready to go to the club on a Friday night, between repeated chants of the phrase "This is how we do it." The track was nominated for a Grammy, whilst the music video picked up a couple of nods at the 1995 MTV Music Video Awards.
---
"Welcome To The Jungle" – Guns N' Roses
That racing guitar, those furious drums… there's no way not to get amped up to "Welcome To The Jungle". The track is about the dark side of LA and what happens to the people who go there to pursue fame.
It has an infectious energy that's impossible to ignore, which is what makes it such a fantastic softball walk-up song. The famous riff by guitarist Slash was first played for the rest of the band on an acoustic guitar, but they heard its potential even before Slash picked up the electric.
---
"Lose Yourself" – Eminem
In "Lose Yourself", ? than that? Eminem gets into the athlete's mindset in the opening verse, describing a nervous figure who battles to stay calm and focus on that one moment when it all matters.
---
"Formation" – Beyoncé
There's no question that Beyoncé tracks are amazing softball walk-up songs, but "Formation" is our top pick. Beyoncé embraces her identity and African-American heritage in this empowerment anthem, repeating a confident chorus of "I slay". In the song's outro, she turns her attention to raising up those around her: "Okay ladies, now let's get in formation".
---
"One Way Or Another" – Blondie
There's no way that the eager electric guitar riff in 'One Way Or Another' won't get your blood pumping. The lyrics suggest a challenge – "One way, or another, I'm gonna find ya, I'm gonna get ya, get ya, get ya, get ya" – letting your opponents know that you're coming for them, whilst the song's racing instrumental is sure to get you hyped.
Whilst 'One Way Or Another' is an upbeat track with a light hearted instrumental, the original meaning of the track is a lot darker.
Debbie Harry was inspired to write the song after a real-life run in with a stalker. Despite the experience being a traumatic one for her, she wanted to inject a little levity into the track as a "survival mechanism".
---
"Roar" – Katy Perry
This empowerment anthem by Perry is all about realising your own worth. After years of being held down by others and forced to bite her tongue, Perry sings about finally understanding her own potential and letting herself roar as loudly as she can. It's one of the perfect softball walk-up songs for getting ready to show the world what you've got.
Perry was inspired to write the track about events in her personal life, and the journey she'd been on in therapy since her last album. She wanted to celebrate finally feeling able to freely speak her mind.
---
"Fight Song" – Rachel Platten
Platten's explosive track about fighting to achieve your dreams makes for one of the best softball walk-up songs, thanks to its adrenaline-pumping build and straightforward message of believing and achieving. Prior to releasing "Fight Song", Platten had been working hard in the music industry for 12 years, releasing her debut album a whole decade earlier.
She had to decide whether to keep going or give up – and out of that conundrum, 'Fight Song' was born. It took on a life of its own, championed by the likes of Taylor Swift, who invited Platten to perform the track onstage with her, and Hilary Clinton, who used it at campaign events. It also finally got Platten signed to a big deal with Columbia Records.
---
"Danger Zone" – Kenny Loggins
This invigorating track from Kenny Loggins is best known for its use in the original Top Gun film. The song was designed to offer an adrenaline kick in the film's action sequences, so it's perfect for adding a bit of energy to your walk up.
Written by songwriters Giorgio Moroder and Tom Whitlock, who also wrote 'Take My Breath Away' for Top Gun, the track was a difficult one to find a singer for, as some acts were nervous about the film's pro-military message. Loggins jumped at the chance, however, as he was worried his discography was too ballad-heavy and thought this upbeat track would offer some much-needed contrast.
---
"I Got You (I Feel Good)" – James Brown
From that opening vocal cry to that playful brass riff, James Brown's 'I Got You (I Feel Good)' makes the listener feel ready to take on the world. You want to feel good on your walk-up, so why not choose a song that's all about that feeling? This track was a reworking of an earlier version called 'I Found You'. The changes made gave Brown his famous catchprase: "I feel good".
---
"You Give Love A Bad Name" – Bon Jovi
This rocking track from Bon Jovi has been used for years as a warm-up song for athletes, as it's the perfect heart-racing song to get pumped up to. That "shot to the heart" described in the song's opening line is one of pure adrenaline.
'You Give Love A Bad Name' has been used many times in TV and film – one example is in How I Met Your Mother, where the song is used as the opening track on Barney's 'Get Hyped' mix.
The track was written in collaboration with Desmond Child. The aim was to create something with a huge chorus, as the band's label believed this would be how they broke through in the industry.
---
"Dynamite" – Taio Cruz
Cruz's hit may have been designed for the club, but its thumping beat translates just as well to the sports field. With a big build, a huge beat drop and plenty of great lines about going as hard as you can, there's tons of great moments to choose from for your walk-up song.
Whilst the song has become something of a party anthem, songwriter Bonnie McKee ironically actually wrote the track about the process of getting sober and surrendering to life's plan for her.
---
"Toxic" – Britney Spears
'Toxic' opens with one of the most recognisable riffs in music history. Guaranteed to get your pulse racing, the track makes for a great walk up song thanks to its invigorating effect. The track was written by English songwriter Cathy Dennis with Spears in mind and became a huge hit for the popstar, remaining one of her most popular and also one of the best softball walk-up songs and for good reason.
---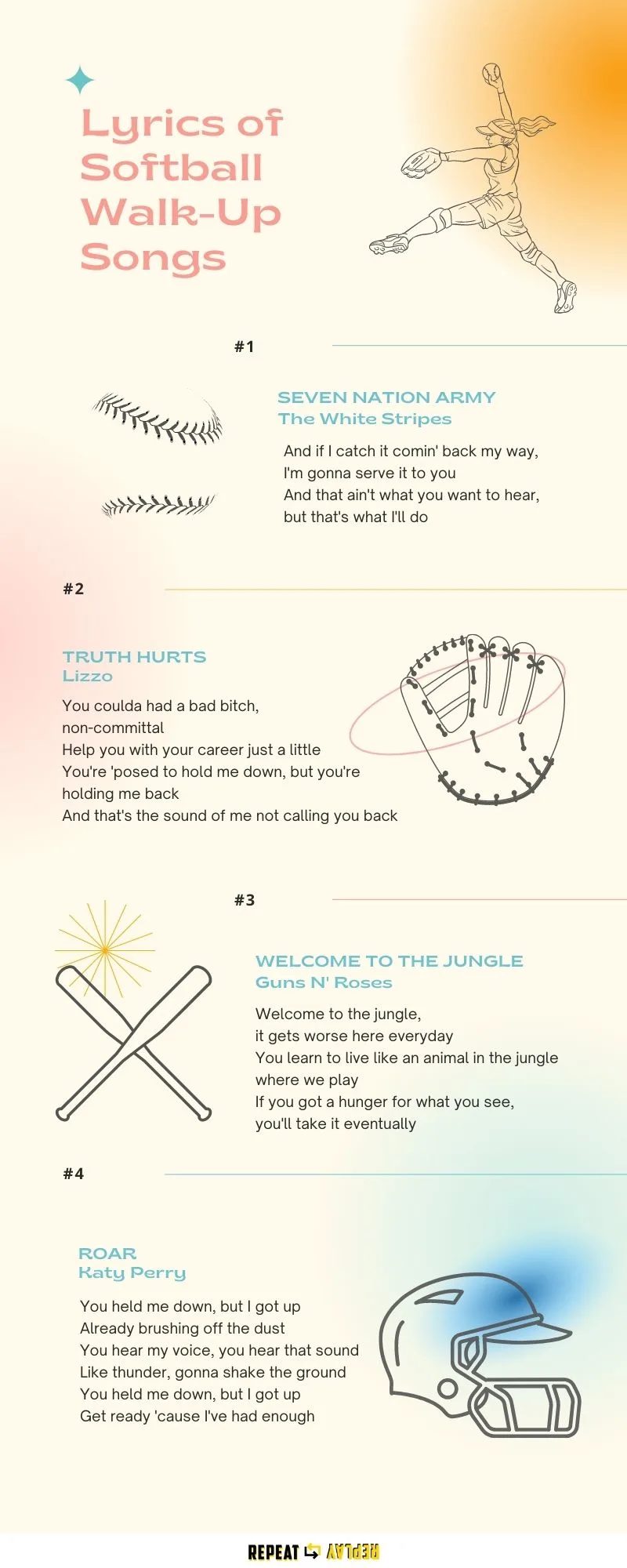 "Bang Bang" – Jessie J, Ariana Grande & Nicki Minaj
Three of pop's biggest forces come together for a pop anthem on overdrive. 'Bang Bang' doesn't let up for a second, which is why it's such a great choice for a walk up song. The track was the lead single on Jessie J's third album, and the collaborations came about fairly organically. After Jessie decided to record the song, Grande came across it and also wanted to put a verse on it. Jessie was elated when it was confirmed that Minaj also wanted to hop on the track.
---
"The Greatest" – Sia
"I got stamina," repeats Sia in 'The Greatest' – definitely something you want to remind yourself of on your walk-up. If you're feeling confident, then use your walk-up to remind your opponents who 'the greatest' is, with a little help from Sia. The upbeat instrumental and Sia's huge vocals make this track an ideal pick.
---
"Thunder" – Imagine Dragons
This Imagine Dragons track is full of casual confidence, helping to put a bit of swagger in your step and making it one of the best softball walk-up songs to begin the game. Inspired by classmates who mocked him as a child, front man Dan Reynolds flips the script on them by reminding them how much better he's doing than them now. Reynolds also feels appreciation for the tough times he went through as a kid – he wouldn't be the person he is now if they hadn't happened.
Final thoughts
Whatever softball walk-up song you pick, the most important thing is that it speaks to you. Take time to think about your personality and what kind of player you are and choose a walk-up song that fits you perfectly. There's plenty of great options out there – with more being released every day – but the best softball walk-up songs on this list are a good starting point.
Caitlin Devlin is a music, entertainment and lifestyle writer based in London. When she's not creating playlists for Repeat Replay, she's reviewing gigs and interviewing artists for Ticketmaster UK and thinking about what her Spotify Wrapped will look like this year.